You haven't had cake until you've had cake until you've had a Kay Cake! All of our custom designed cakes are made in a wide variety of fillings and flavors.
Each tier on our cakes is made up of three layers of our moist, heavenly cake with mousse filling in between each layer. All cakes from Take the Cake are made to order, never frozen, always fresh. Each bite is packed full of flavor and deliciousness, there is rarely a crumb left on the plate!
Below are some of our favorite combinations, or create your own!
Designing Your Wedding Cake
To design your custom cake, we start with the cake flavor.
Cake Flavors
White
Chocolate
Lemon
Carrot
Red Velvet
Banana
Yellow
Coconut
Chocolate Chip
Don't see what you're looking for? Contact us! Possibilities are endless!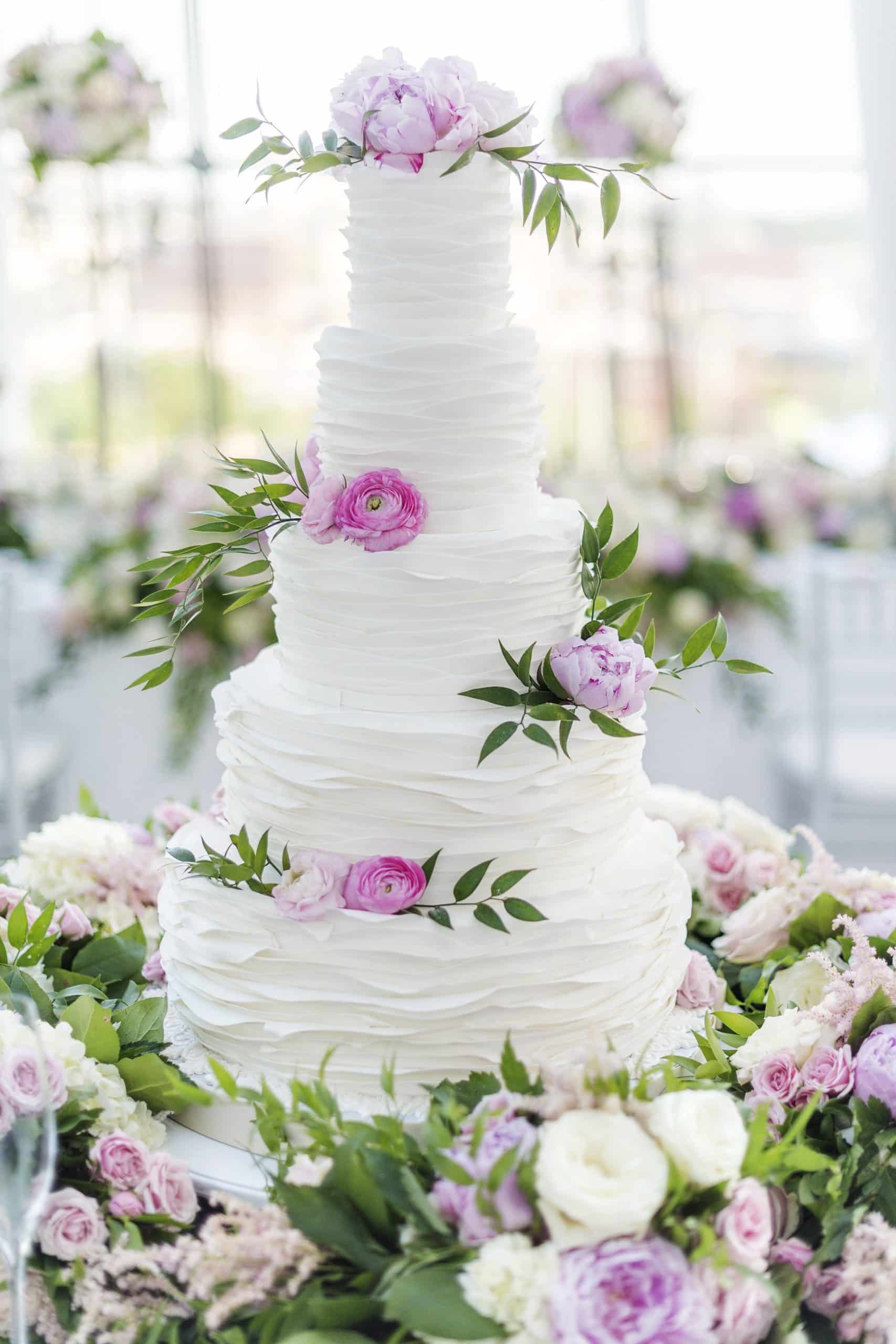 Mousse Fillings
Blackberry
Chocolate
Caramel
Mocha Chocolate
Lemon
French Vanilla
Pink Raspberry
Strawberry
Cappuccino-Tiramisu
Italian Custard "Panna Cotta"
Hazelnut Praline
White Chocolate
Burnt Sugar and Macadamia Nut
Salted Caramel
Passion Fruit
Candy Bar (Butterfinger, Snickers, Reese's or your favorite)
Champage & Pink Raspberry
Marshmallow
Vanill Bourbon Whiskey
Creme Brulee
Oatmeal Cookie
Angel Cream
Boysenberry
Butttered Rum
Staff Favorites
We offer several signature mousse fillings and cake combinations. Below are some of our most popular signature cakes: 
Black Forest Cake
Chocolate cake with French vanilla mousse filling topped with cherries and grated bittersweet chocolate 
Chocolate Peanut Butter Decadence
Chocolate cake with peanut butter cream mousse filling
Chocolate Raspberry Silk
Chocolate cake with fresh raspberries in a raspberry mouse
Gino's Favorite Drunken Cream Filling
White cake with cream cheese and marsala sherry with grated bittersweet chocolate
Killer Mocha Mud Chocolate
Chocolate cake with marshmallows, chocolate chip, and salted peanuts mousse filling 
Red Raspberry Fantasy
White cake with fresh raspberries in raspberry mousse filling
Roxanne's Midnight Secret
White cake with toasted almonds and rum in a white mousse filling
Strawberries and Cream
White cake with fresh strawberries and cream cheese in a strawberry mousse filling
Vanilla Bean Dream
White cake with French vanilla and cream cheese mousse filling
Wesley's Coconut Joy
White cake with toasted coconut mousse filling
Your Favorite Candy Bar
White or chocolate cake with candy mousse filling (heath bars, Snikers, s'mores, Butterfingers, etc.) 

Icing our custom cakes
We exclusively use buttercream icing to frost our wedding cakes. While some brides initially want fondant icing to match the "magazine cakes," we've found time after time that buttercream tastes much better and looks just as great. Buttercream is a smooth, luscious icing full of flavor. The smooth, flawless matte finish of  fondant cakes can be achieved by using buttercream. It's our policy to bake cakes that LOOK and TASTE great. That's why we're a buttercream-only bakery.